06/15/12 23:08
Let me begin today's post by saying I really like my
Tele
.*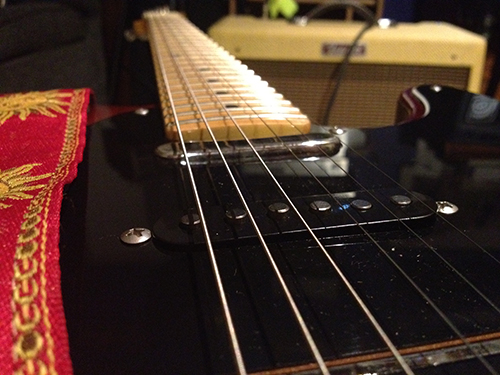 That being said, I finally broke a string on it during last week's
Bag of Focus
show. It was the
A string
, which ought to tell your something about my maddened playing. But I was prepared with the
Gibson The Paul
, which came in very handy during a tune…
Love the One You're With
, was it? Anyway, the Tele has finally gone through the real initiation, and is a full member of the club of abused instruments (complete member rights pending).
All that to say that I am still working on my setup. The pedalboard is still in use, but I am becoming disenchanted with
The Wiggler
. It's too buzzy, and although I really like the tones, I think I'll have to figure something else out. Maybe
The Worm
. Anyway, I went back to using the Foxx Phaser, and I was happy with it at the last show. But the tone of the Tele is so lovely… it's smooth and creamy, kind of like
frosting you can spread with a paper knife
. It's becoming the electric guitar I reach for most often, which isn't too surprising (although I dearly love the
Red Special
). The Tele is a little more versatile to me, so much so that when a friend of mine from work asked me to play guitar at her daughter's wedding, I decided to use the Tele as the instrument o' choice.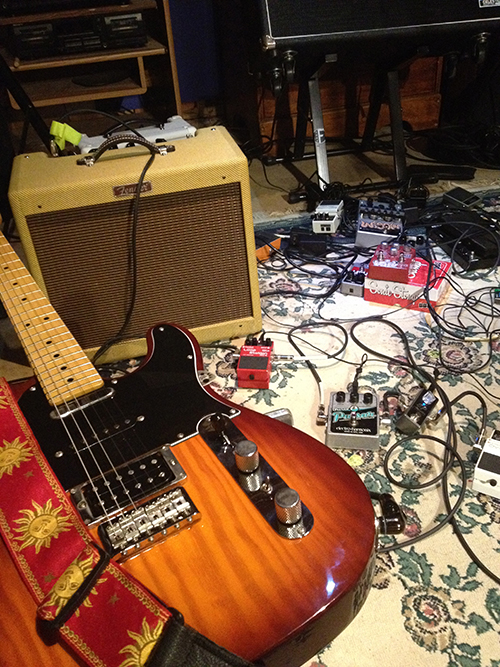 Of course, the wedding is tomorrow evening, and (true to life), I've been outtamymind busy the last few weeks. A Bag of Focus show last week that required rehearsals several days a week, Tall People opening the show which took up the remaining days of rehearsal, then after the show I went to a press check that lasted Tuesday through Thursday (I flew back yesterday afternoon and crashed on the couch too soon), then the wedding tomorrow (followed by another press check Monday that lasts until Wednesday, then off to
Chicago on Thursday to see Marillion
[first time since
1989
], returning Sunday and off to a photoshoot Monday).
Never, never before…
So, tonight was the first real rehearsal for the wedding in full performance mode.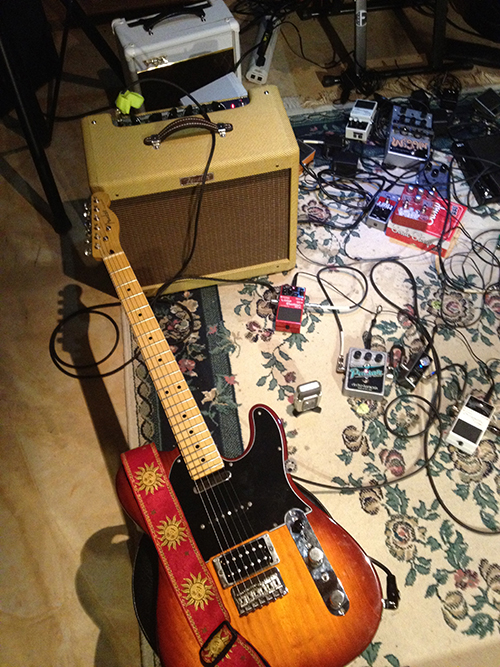 I'll play
Pachelbel's Canon
** (in D, as intended) sometime before the bride arrives, then
Here Comes the Sun
moments after they're happily married. I recorded the rehearsals, so if you want to hear my best intentions before I ruined a lovely young couple's Most Important Day of Their Lives, visit the
Songs
page. Not content with that, I played a duet with myself on
Stormy Monday
(with correct chords… I think), followed by a piece I'd made late one night after a rainy day using my old
Hondo II
*** classical guitar that's in a mysterious lowered tuning. I called it
Classical Flight Vista
, because I'm still
not good at titling anything
. These, too, are on the
Songs
page, should you be concerned.****
So, there you have it: four new recordings, one of which is mine, the other three are my interpretations***** of some standards. Who says I don't put out?
Oh, and I bought
new picks
. I'm not thrilled with the thinness of them. I reordered new ones that aren't glow-in-the-dark but aren't apparently made of rice paper, either. I'll post the new ones when they arrive. In the meantime, here's the pick that'll probably give me a paper cut next time I use it. Splendid guitar, though.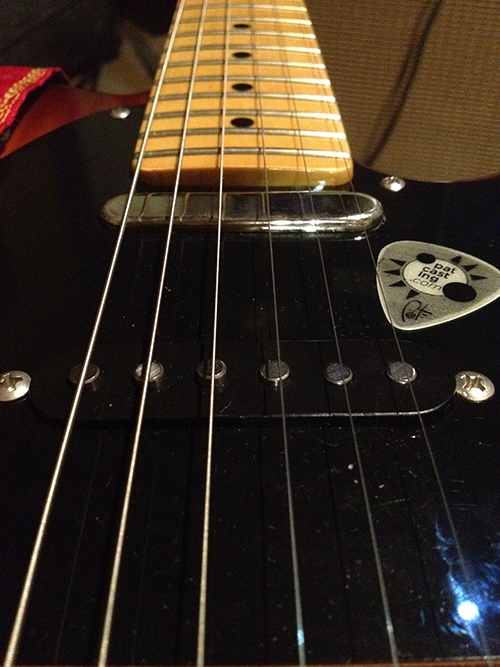 * Although I really need a
good case
for it.
** It brings to mind one Sunday evening a couple of decades ago when I was not alone in a very small room with
the local NPR station
in the background as they played an hour of different versions of Pachelbel's Canon and… well, if you weren't there, you don't need to know what we were doing.
*** One of which is
currently selling at a bid of $5.95
at shopgoodwill.com.
**** I know I would be, if I had any shame.
***** ruinations.